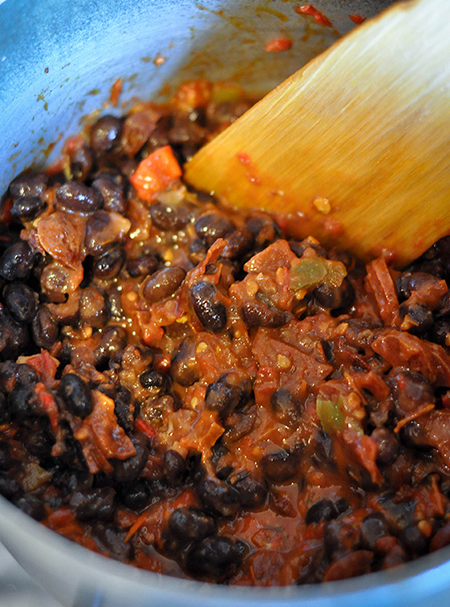 Gluten, corn, dairy, egg, yeast and soy free. Vegan
Cooking beans from scratch requires remembering the night before that you want to cook beans the next day. I'm not always on top of that. You'll always find a few cans of organic beans in my pantry.
These spicy-as-you-like beans are great on their own or served as a side dish. They're essential in Huevos Rancheros and are a great base for Chili. The whole dish moves up a notch if you use slow-roasted tomatoes and fresh roasted peppers. By choosing a mixture of peppers from mild to hot you can manage the heat.
If you make the salsa from the previous recipe you could simply mix the beans with salsa, add some red wine vinegar and you're done. If not, follow the steps below.
Also I have you cook a whole pound of beans even though you won't use that much.  Use them later in the week for soup, salad or mixed with grains.
Serves 4 as a side dish  
Ingredients:
1 pound beans (pinto, black or kidney) or 1 can organic beans
3-4 cloves garlic , peeled and slightly crushed
3-4 fresh chilis (chipotle, serrano, ancho or poblano; habanero if you dare)
½ cup Slow-Roasted Tomatoes (or add one more tomato below)
2 medium tomatoes, chopped
1-2 teaspoons cumin
1-2 teaspoons dried oregano
2 Tablespoons red wine vinegar
Coarse sea salt and freshly ground pepper to taste
Fresh Cilantro
Cook the Beans
Rinse and sort the beans looking for little pebbles which occasionally show up, I don't know how. Place the beans in a large bowl, cover with water and a few inches more. You can do this at night and cook the beans the next day or do it the morning and cook in the afternoon. When ready to cook, drain and rinse the beans again and put in a heavy pot. Add water that's about double to triple the amount of beans. Add the garlic. Simmer the beans until done. Different beans require more or less cooking time. In my experience beans take at least an hour but taste after 45 minutes. You can throw in a teaspoon or so of sea salt near the end; if you start with salt the beans can turn tough. When the beans are tender ladle out two cups for the recipe; store the rest in a container with a tight lid for use later in the week.
Prepare the Peppers
Freshly roasted peppers impart a smokey, slightly charred outdoor flavor to anything they are added to. This recipe does not require that you peel the peppers after.
You can roast peppers a few different ways. The easiest is to put them on a barbecue grill. Get the grill about medium hot, place the peppers directly on the grate, or if you are using small peppers that could fall through, put the peppers in a vegetable pan made for the grill. Keep an eye on them and turn as they start to blister. You want the peppers to to turn black in spots, but not too black.
A toaster oven works well too. Put the peppers on the tray that comes with the oven, not directly on the rack as they do ooze a bit while roasting. I use the broil setting and watch them carefully, turning as they start to blister and "char". I guess you could do this in your oven broiler as well. I just haven't.
Perhaps my least recommended method, although it's kind of fun,  is to roast the peppers over the gas flame of your stove. I did this in our apartment in London using a very nice meat fork. The peppers were fine the fork handle cracked. Instead use a metal skewer, wear an oven an mitt and be prepared to clean your stove right after. It does work though.
Once the peppers are roasted, let them cool. If you have a very hot collection of peppers wear thin plastic gloves while working with them and never, never touch your face or eyes until after you've washed your hands. Cut the tops off the peppers, slit down the side and scrape out the seeds. I actually leave some seeds in for the heat. For larger peppers like Poblanos or Anchos, using a sharp paring knife I cut around the stem at the top and gently pull the whole seedy center from the pepper pod. Roughly chop the peppers. Remove gloves if wearing and and wash your hands with soap and water, don't just rinse them.
Prepare the Spicy Beans
Put two cups of beans, the chopped peppers and all the other ingredients except the cilantro in a saucepan. Stir and taste.  Add more seasoning and vinegar to your taste. Let simmer over low heat for at least 15-30 minutes adding a bit of water if the mixture looks dry or starts to stick to the bottom of the pan. To serve sprinkle with fresh, chopped cilantro.