REVISED: Gluten, Dairy and Egg-free, Vegan Blueberry Pancakes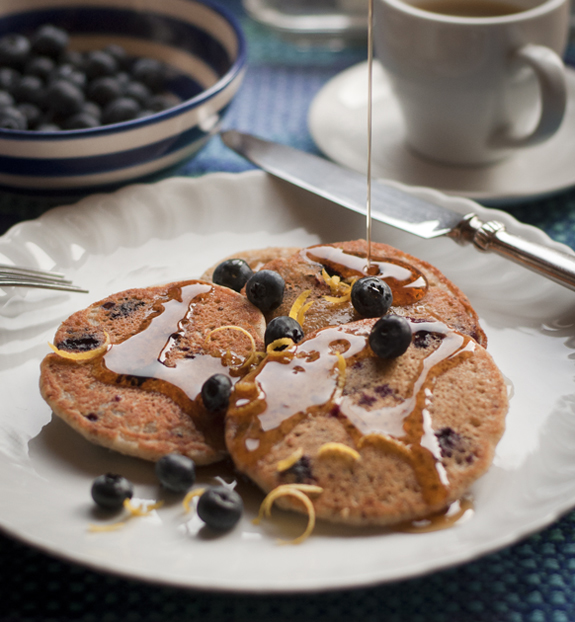 Gluten, egg, dairy, soy and yeast-free. Vegan.
Author's Note: As you can see by the comments below, there was something horribly wrong with the way I presented this recipe. I'm not sure how that happened, but I'm here to fix it. The ingredients were the main problem. I must have had too many handwritten notes, compiled badly. I apologize to anyone who tried to make these.
Also, the flour blend you use is very important. You can buy a blend of gluten-free flour from Bob's Red Mill which are very good, or I really like the flours from Authentic Foods. Often flour blends contain xanthan gum; I typically try to stay away from gums, but they do make baking gluten free easier. Following is the flour blend I used for the revised recipe. I weigh the flours, as different flours are more or less dense, so weighing is a more accurate way to ensure you have the correct quantity of each. To prepare the blend simply measure each flour separately on the scale and sift together into a bowl or large storage jar. All flours I used are from Authentic Foods.
Ingredients
300 grams Superfine Brown Rice Flour
200 grams Superfine Sorghum Flour
150 grams Potato Flour
150 grams Superfine Sweet Rice Flour
150 grams Tapioca Flour
Original Post
About a month before vacations, in this case Spring Break, Tess starts sending me messages about what I need to cook when she's home. To put it in perspective, she doesn't veer much off a primarily fruit and veggie diet at school. Partly because she limits carbs, partly because she makes one dish and eats it for a while —ratatouille, dhal, vegetable soup, and oh, because she is pretty much a vegetarian. This weekend she wanted blueberry pancakes. In fact, she asked me at least three times last night if I would make them.
This is a new recipe that turns out to be the best ever. It's crazy delicious if I do say so myself and they are gluten, egg, dairy, soy and yeast-free to boot. And no nuts either.  A completely safe, vegan option for those of us living without some of life's basic ingredients .
I used a special flour that I (most likely illegally) carried from the UK. It's made by ABO- Artisan Bread Organic in Kent, UK. It's ground in small batches from organic, gluten-free whole grains. I've had it in the refrigerator to stay fresh. Sadly it's not distributed in the US and shipping flour can get expensive. You can use your own favorite blend of gluten-free flour, or try Bob's Red Mill gluten-free all purpose flour.
I think the lemon extract made all the difference. To me the lemon essence brightens the flavor of the pancakes without getting overbearing. If you don't have lemon extract try adding two teaspoons of lemon zest for the 1 teaspoon of lemon extract. To make your own lemon extract zest two lemons (un-waxed) and put the zest in a small clean jar. Cover with vodka and let steep for about two weeks. Strain through cheesecloth or a paper coffee filter.
You want the batter to be thick enough to coat the berries. And try not to you use really big blueberries. What happens is when you flip the pancake those beautiful big berries will stick to the pan and actually keep the pancake from touching the surface. It's kind of a mess, burnt blueberries and one raw-ish side of pancake.
Serves 4
REVISED Ingredients
2- 2¼ cups (225g) gluten-free flour blend
1 teaspoon gluten-free baking powder
¾ teaspoon salt
1¼cups (280ml) unsweetened non-dairy milk (I used almond)
2 tablespoon agave syrup
1 teaspoon vanilla extract
1 teaspoon lemon extract (optional)
3 tablespoons softened coconut oil
¼ cup ground flax seeds
1 cup (225ml) blueberries (preferably organic)
REVISED Method
1. Whisk together the flour, baking powder, and salt
2. Put agave syrup, vanilla and lemon (if used) extracts, almond milk, 2 tablespoons of the coconut oil, and ground flax seed in a microwavable bowl and stir
3. Heat for 45 seconds in the microwave and stir again
4. Stir wet ingredients into dry and mix until blended. The batter should be bit thick to hold the blueberries; if too thin add a bit more flour and stir to blend.
4. Fold in washed and drained blueberries
5. Melt the third tablespoon of coconut oil in a pan ( I use 12-inch copper pan)
6. When a drop of water dances on the oil, ladle enough batter to make a 3 to 4-inch pancake. When the edges start to dry and bubbles start to appear on top, flip and cook until golden brown.