Spinach and Goat Cheese Frittata with Slow-roasted Tomatoes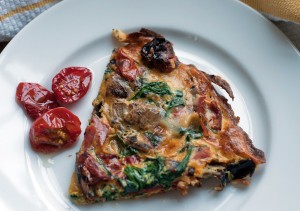 Free from: Gluten, cow dairy, soy and yeast. Contains goat cheese and eggs.
Ernie thinks cooked, green vegetables are poison. It's become a personal challenge to create, or find, recipes that lure him into eating dark leafy greens. And he can't eat cow's milk in any form. He can however lustily consume milk, cheese and butter from goats, sheep and buffalo without incident. The combination of rich goat cheese and earthy sauteed spinach, along with sweet, slow-roasted tomatoes piqued with spicy chilli does the trick. And while this  frittata is tasty breakfast fare, it makes a great make-ahead brunch dish that's great for company.
In London, I find small plum tomatoes from Sicily and Spain before they are in season here. But now it's Summer and I got some very sweet organic cherry tomatoes from the Daylesford Farms store in Westbourne Grove. Once roasted these tomatoes have a sugary sweetness that fills my whole mouth. To make the frittata I use organic eggs and spinach and a selection of local goat cheeses. This is a good way to use up bits of cheese from a cheese platter you couldn't bear to throw away.
Try this recipe or create your own with whatever vegetables you prefer. Roasted peppers, little zucchini cubes or leftover sliced, roasted potatoes, sauteed in olive oil  also work well with savory, tangy goat cheese. You'll need a 10 or 12-inch skillet that can be put in the oven. The recipe for slow-roasted tomatoes is below but you can find good roasted tomatoes in many markets. I don't like the dark, leathery sun dried tomatoes for this dish — the flavor is too overwhelming.
Serves 2-3; free from gluten, cow dairy, soy and yeast
FRITTATA
Ingredients:
3 tablespoons extra-virgin olive oil
½ teaspoon kosher or sea salt
10 ounces fresh spinach, washed and coarsely chopped (about one bunch with stems removed)
4 large eggs
4 ounces goat cheese (one or combination of a few), roughly chopped into 1/2-inch cubes or crumbled (see The Cheese Trolley for notes on cheese)
10 slow-roasted cherry tomato halves, roughly chopped (recipe follows)
1-2 teaspoons crushed chilli in vinegar, drained or ¾ teaspoon dried red chilli flakes
Fresh ground pepper to taste
Preparation:
1. Preheat broiler with rack placed approximately 6 inches below heating element.
2. Heat skillet over medium heat for two-three minutes. Add 1 tablespoon olive oil and 1/8 teaspoon of sea salt. Add spinach, tossing and turning from underneath. Cook until spinach is glossy and moisture has evaporated. Put Spinach in a bowl and set aside. Rinse pan.
3. Break eggs into a medium bowl and whisk until blended. Add cooked spinach,
tomatoes, chilli, goat cheese, remaining ¼ teaspoon salt and several twists of fresh
ground pepper. Mix thoroughly.
4. Re-heat skillet over medium-high heat for two minutes and add 2 tablespoons of olive oil, rotating pan to coat bottom. Pour egg mixture into pan all at once and quickly tilt pan to spread egg mixture evenly. When edges start to dry and form a frilly edge, gently lift up the egg mixture slightly with a spatula allowing wet mixture to pour underneath. Continue to work around the edge of the pan until the frittata starts to look lumpy and wet but not runny.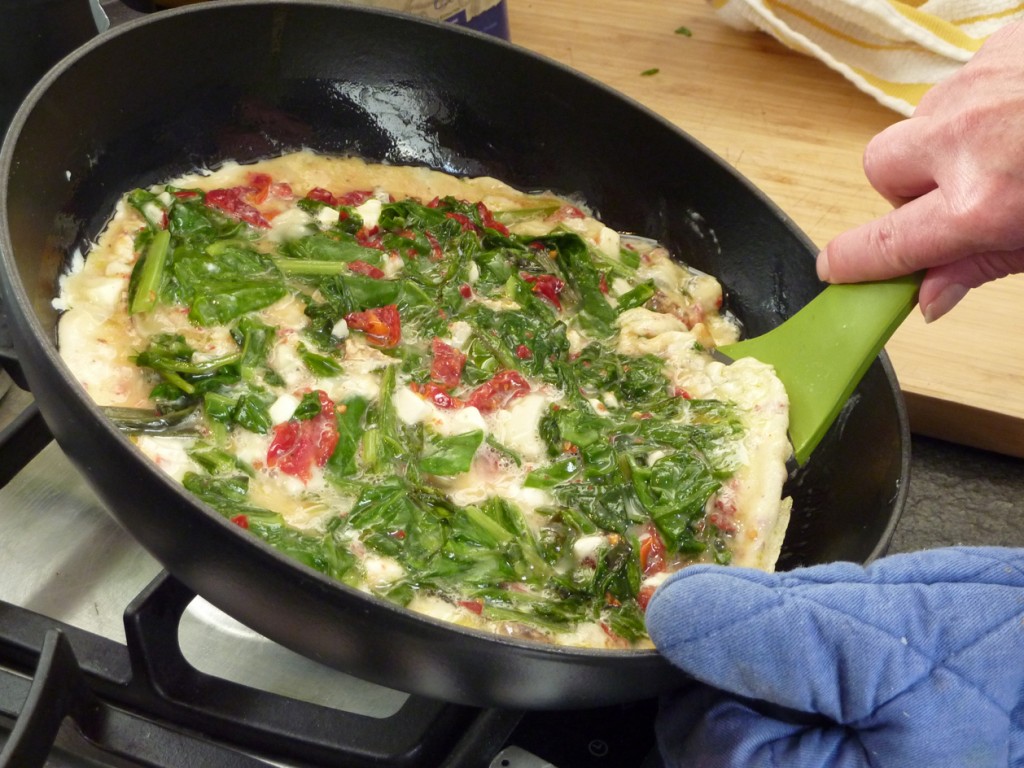 5.    Place pan under broiler for two minutes; broilers can vary so watch the frittata carefully. When top just starts to brown, remove from broiler and serve immediately or let cool to room temperature.
Tip: If spinach leaves are large or have stems use kitchen shears to roughly chop spinach while it's cooking in the pan.
Variation: Double the recipe. Lightly grease a muffing pan with olive oil and pour the egg mixture into cups to about 3/4 full. Bake at 350F for 12 minutes until lightly browned on top and firm to the touch. These make quick protein snacks or breakfast for later in the week. Makes 12 frittata muffins.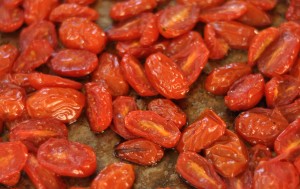 SLOW-ROASTED CHERRY TOMATOES
These deliciously sweet, intensely flavored morsels are terrific tossed in pasta, squished in a sandwich, cooked in a frittata or add to a Mediterranean baked fish with capers and olives and a bit of feta. This recipe makes a "batch"; it's not exact. The idea is you will be able to use them over time unless you can't stop eating them (that's a problem for me).
Ingredients:
2 pounds (or 1 kilo) cherry or small plum tomatoes, washed
5-6 whole garlic cloves, unpeeled and squashed slightly with the side of a chef's knife (optional)
Kosher salt
Freshly ground pepper
Extra-virgin olive oil
1.    Preheat oven to 225º (centigrade?)
2.    Lightly coat bottom of a jelly roll pan with olive oil.
3.    Remove stems from tomatoes and cut in half.
4.   Place tomatoes cut side up, in pan in one layer. Place garlic cloves evenly among tomatoes.
4.    Drizzle olive oil over tomatoes until they glisten and sprinkle lightly with salt and freshly ground pepper.
5.    Place pan in middle of the oven and roast 2 ½ to 3 hours until dry and shriveled on the outside, but still juicy on the inside.
6.    Let cool, discard garlic if used and use immediately or store in container covered with olive oil.