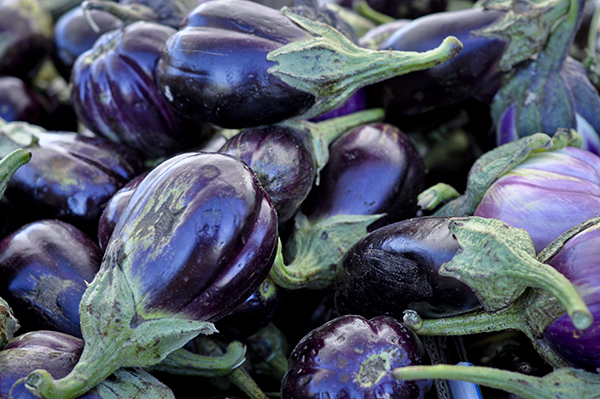 Eggplant is a staple in my kitchen, but it wasn't always. I hated eggplant with every fiber of my being until I was in fourth grade. My father, much to the chagrin of my mink-stoled doll collection, decided that following in my uncle's footsteps as a furrier was not his dream. Instead, he bought an Italian restaurant and bar called the The Driftwood Lounge on Long Island, NY. They had a trusty bar crowd, live music on weekends, and some of the best damn Italian food anywhere. The chef, Tony, was a treasure of a cook from Italy.  And while I was not old enough to stand hip-to-hip with them while Tony taught my father the way around the menu and how to run a professional kitchen, my turn came a few years later when my father taught me how to cook. It was Tony's, and then my father's, eggplant parmigiana that turned my head to the deep purple, fleshy fruit (yes fruit), the eggplant.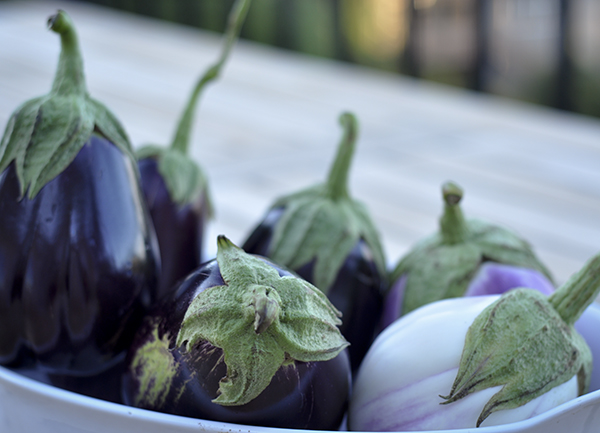 Eggplant season in California, when you will find the widest variety of eggplants, starts in June with a high season that hits its stride later in August and September, then tapers off through October. The most prevalent eggplant I find are the big girthy globes called Black Beauty which tend to be available all year long; smaller, more slender Asian varieties like the Ichiban, and even white ones with a wash of pink like the Rosa Bianca tend to have a shorter growing season. Eggplants can be large and round, as small as a handball, or delicate and slender like a princess' slipper. And while we can get eggplants all year long, the eggplants you get in February either come from somewhere else, or they've been in cold storage getting bitter, wouldn't you? Ok there are ways around the bitterness; read on.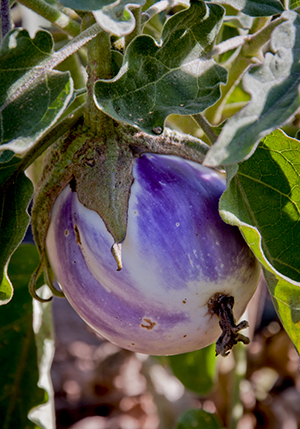 Older more mature eggplants have dull, matte-looking skin, and feel soft. These are often bitter as the seeds have started to get larger as they age and, as they do, bitterness sets in. It's part of Mother Nature's plan—make the seeds undesirable so the plant can propagate.
When buying eggplants, choose fresh, firm, shiny-skinned ones that feel heavy in your hand. Eggplants like these are usually not bitter because the seeds have yet to mature. They're best kept at about 50º; just don't let them sit around the kitchen looking pretty.
To minimize bitterness, many cooks salt the eggplant flesh before cooking. Salting may also minimize the amount of oil the sponge-like eggplant will absorb during frying or even sautéing resulting in a crisper finish. I actually always soak and salt eggplant for eggplant parmigiana, as that is how I was taught by my father. And in deference to him, and Tony before him, I have taught my daughter to do the same.
To prepare  eggplant for eggplant parmigiana, or for any dish where bitterness is a concern, first wash and slice the eggplant. Stack in layers in a large bowl, salting as you go and cover with cold water. Weight the slices down with a plate, to keep them submerged, for about 30 minutes. Then drain and place the eggplant between paper towels in layers, or clean cotton dish towels, and weight down again to get the moisture out. I usually put a cutting board on top and sit on it; it confuses the dog. By the way, if we're grilling slices or roasting cubes in the oven, I never salt it and have never had a problem.
The beauty of eggplant, apart from being amenable to so many dishes that don't require gluten or dairy, is that it can be roasted, fried, braised, sautéed, grilled, stir-fried, baked, even boiled. Grilled over, or even in, a  wood-fire produces the most sensuous smoky flavor, but how often do you make a wood fire? Coal will suffice, and a gas flame works too, maybe just not so well. But it's somewhat relative. If you've never had eggplant roasted by, or in, a wood fire, you wouldn't know.
The earthy flavor of eggplant pairs especially well with cheese, garlic, olive oil, basil, parsley, and it's familial nightshade sisters, peppers, and tomatoes. It's long been favored in Indian cuisine as this is where eggplant originated, Middle Eastern cuisine (baba ganoush), as well as the Mediterranean dishes of Greece (moussaka or papoutsakia/stuffed eggplant), Italy (parmigiana), and France (ratatouille).

Some easy-to-prepare ideas to get you started:
Roast eggplant. Pre-heat oven to 375ºF.  Wash and cut the eggplant into about 1-inch chunks. Scatter in a rimmed baking dish and pour a few tablespoons of olive oil over all. Sprinkle with salt and pepper and/or chili flakes if you like, then stir to coat evenly. Place in the oven and bake for a total of about 20-25 minutes. Stir about midway through the roasting to ensure overall browning.
Grilled eggplant slices. Brush thick slices of unpeeled eggplant with olive oil and balsamic, grill then sprinkle with freshly chopped herbs and balsamic. Serve as part of a larger antipasto with roasted peppers, a nice sopprasata or thin slices imported prosciutto.
Pasta Norma. Toss sautéed or roasted eggplant cubes,  with a douse of tangy tomato sauce serve and add some crumbly ricotta salata, or shaved pecorino.
So if you're already a fan, or didn't know what to do with them, get thee to a market and start your own little love affair with these succulent beauties.
Save